Crafting a Dynamic and Compelling Mission Statement with Randy Hawthorne [LLC 003]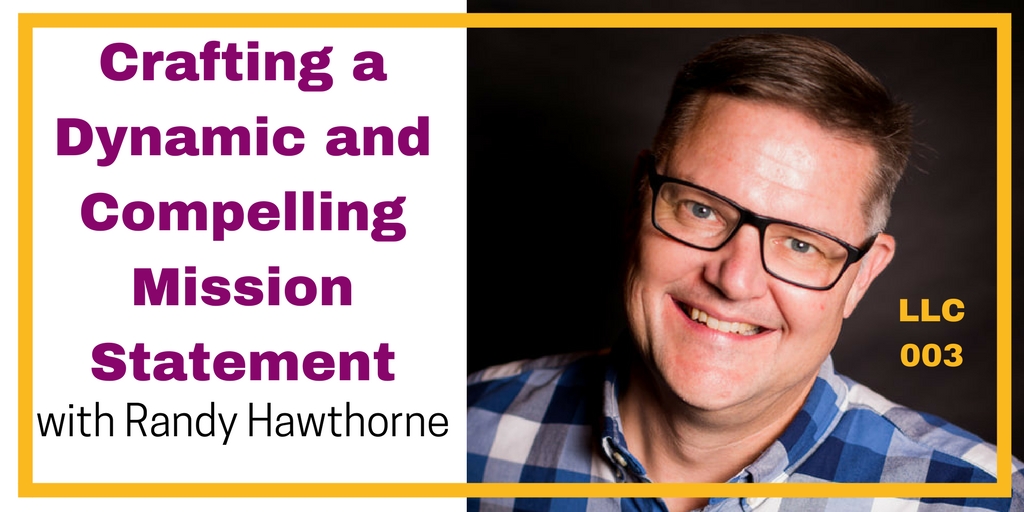 My guest, Randy Hawthorne, co-Founder of Nonprofit Hub, joins us to discuss why every he believes every business needs to have a powerful mission statement. Randy also breaks down his method that business owners can implement to begin crafting their dynamic mission statement.
What You'll Learn:
What is a mission statement and why does every business need one?
Why your mission statement is one of the first things you should focus on and create when you launch a business
Deciphering your "why" is more than just a cool fad to participate in
What is the key component when you want to get started when creating your mission statement?
The best way to start crafting your mission statement is to start by telling stories about how you want your product or service to affect people when they interact with it
Should you create your mission statement alone or with others?
How often should you update your statement?
Why it's important to share your mission with your employees and customers in order to get others to get excited and buy into your mission statement
Does the mission statement play into the hiring process?
Why super aspirational and convoluted mission statements are useless
Resources:
Nonprofit Hub's workbook on how to craft a mission statement
Contact Information:
randy.hawthorne@nonprofithub.org
Social media: @rdhawthorne
Thank you for listening to the show! I really appreciate it.
Please don't forget to SUBSCRIBE so you can get each new episode delivered directly to your podcast player of choice. You can find the show in Apple Podcasts, Stitcher Radio, and Google Play.
Leaders sure do love company so be sure to get social with me:
Instagram: https://www.instagram.com/nic_abboud/
Facebook: https://www.facebook.com/nicolejabboud/
Twitter: https://twitter.com/nicoleabboud
Or email me at nicole[at]nicoleabboud[dot]com